Understanding your energy bill
Explore what's behind the charges you might see on your bill
Explore what's behind the charges you might see on your bill
Learning about your electricity tariff, supply charge and other parts of your Horizon Power bill can be helpful if you're trying to save energy, understand how you use energy or manage your budget.
In this electricity bill guide, we'll give you an energy bill breakdown and help you explore what's behind the charges you might see on your bill.
Watch this short video for a guide to understanding your energy bill.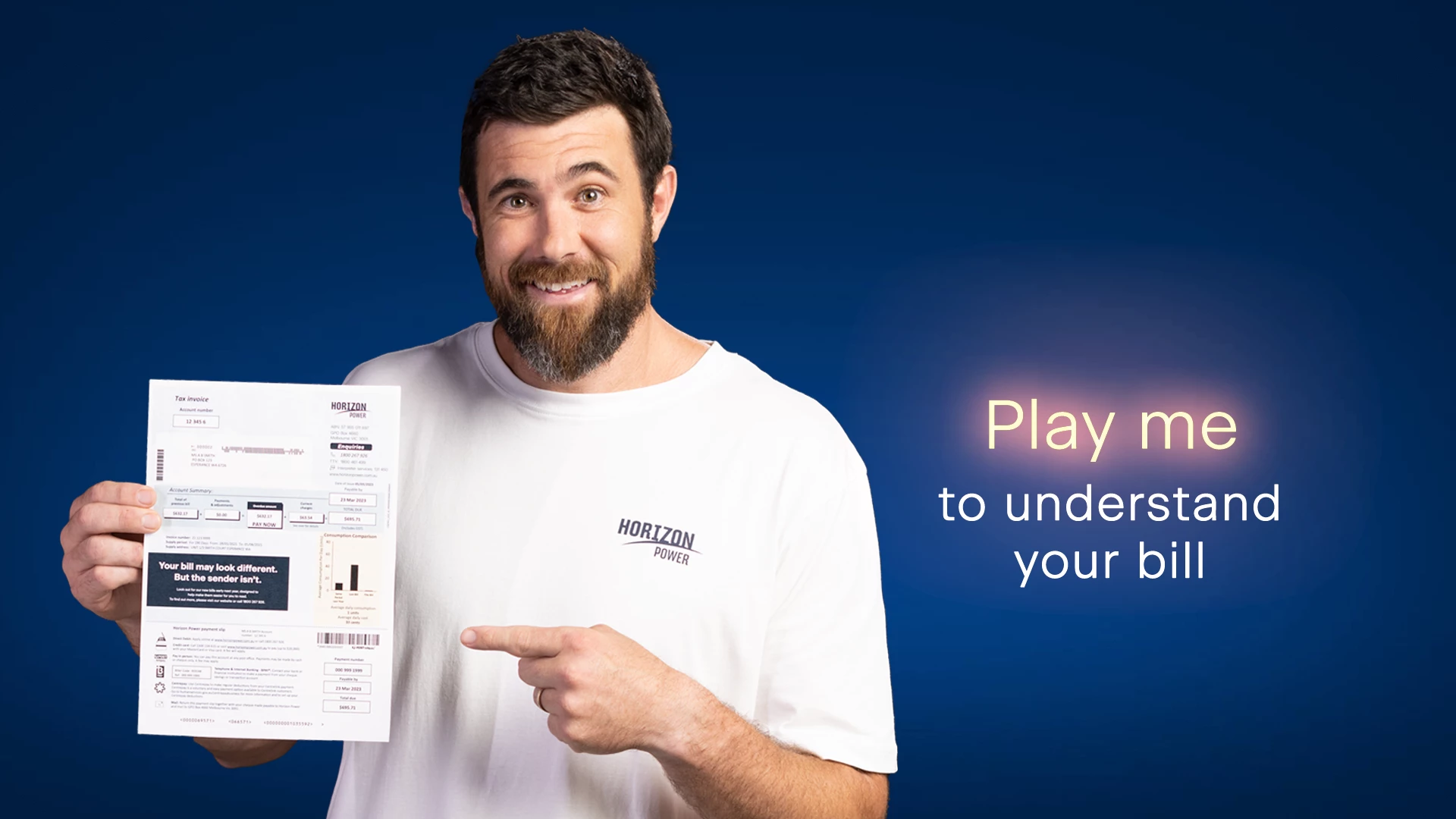 Your energy bill breakdown
Here are the parts of your energy bill and what these parts mean.
Your account details
Your account number is in the top left of your bill. You'll need this handy if you get in touch with us or register online for MyAccount or our mobile app. Under your account number is the name on your account and your postal address.
Your energy use
This part of your bill is a graph which shows how much energy you've used at home on average each day of the billing period. This can help you compare your electricity use to your last bill and the same time last year, if you were at the same address.
Your energy is measured in kilowatt hours (kWh) and your bill will show how many you have used each day and your average electricity costs each day. This is based on your average daily use, your electricity tariff and the number of days in this billing period.
Your account summary
This section of your Horizon Power bill will show:
Total of previous bill
Payments & adjustments: the amount you have paid since your last bill was issued
Balance: the outstanding amount on your account (if any)
Current charges: new charges for this billing period
Total due: the total dollar amount of your bill
Payment due date: when you need to pay your bill by
Other details on your bill
Rebates or subsidies: if you receive any concessions, rebates or subsidies, these will appear here as a credit on your account.
Solar buyback credit: If you have solar installed, this shows a credit for any units of electricity that have been fed back to the network. We buy each unit of electricity at a set price per town and you'll find the buyback price relevant to your area listed on your bill.
On the back of your bill – or on the last page if you receive your bill electronically – you'll find:
Your invoice number: This is different to your account number and is different with each bill.  
Your supply period: This is approximately 60 days, so you'll receive a bill from us about every two months.
Your supply address: This is the address for which we have supplied electricity where this bill relates to. In many cases, this will be the same as the address above but if you have multiple accounts, this will show which property this bill relates to.
Your electricity tariff: This is the rate you are charged for each unit of electricity.
Your meter number: This is your meter's unique identifier.
Reading date: The date your meter was read.
Current meter reading: The reading taken from your meter on your meter reading date.
Equals total units used: The number of units of electricity you have used since your last bill was issued
Buyback: If you have solar installed, this line shows how many units of electricity you have fed back to the network since your last bill.
What are your electricity costs?
Your bill is calculated based on two components:
A fixed daily supply charge: Your supply charge is the cost of getting electricity to your home or business – installing and maintaining the poles, wires and other infrastructure. All Horizon Power customers pay a supply charge, including customers with renewable energy installed.
The cost of the electricity you have used: This is based on the number of units used in this billing period and the cost per unit, based on your electricity tariff. GST is added as a separate line item.
The cost of purchasing, generating and distributing electricity is different in different areas of WA. For example, in regional and remote areas it can cost more for electricity to travel long distances to reach our customers.
To keep pricing fair across WA, the State Government has what's known as a uniform tariff policy. This means our customers pay the same price for electricity to their home or business regardless of where they live.
Some large customers, including government departments and government schools, pay what is known as a cost reflective tariff. This means they pay different rates depending on the cost of electricity in their area.
Understanding your energy use
Your bill is charged based on units of energy known as 'Kilowatt Hours' or kWh. This is how many Kilowatts used each hour.
As you learn more about your bill, it can pay to learn more about your appliances and how these impact your electricity costs. For example, if you run a 1,000 watt (1kW) appliance for one hour, then that will use one kWh. Along the same lines, run a 5kW air conditioner for one hour and that would use 5kWh of electricity.
As you use electricity in your home, the Kilowatt Hours get recorded by your electricity meter and automatically sent to us through your smart meter technology. When you get your bill, you'll see how many kWhs were used, according to your meter. As a guide, an average five-person household consumes roughly 20kWh of electricity per day.
Top tips for your electric bill analysis
Take a closer look at your energy use through our Horizon Power mobile app. You can find your daily and hourly energy use, your current spend and your projected bill, which is an estimate of what your next bill is likely to be, based on your average daily usage.
Get answers to your electricity bill questions
Learn more about WA's energy supply, explore these articles
Exploring Western Australia's EV Network
As the WA Government works towards its target of net zero carbon emissions by 2050, electric vehicles are an important part of WA's low carbon transition.

Here's your guide to driving an EV in WA.
Find out more
Horizon Power acknowledges the Traditional Custodians throughout Western Australia and their continuing connection to the land, waters and community. We pay our respects to all members of the Aboriginal communities and their cultures; and to Elders past, present and emerging.
Aboriginal and Torres Strait Islander people are advised that this website may contain images, names or voices of deceased people.