Regional communities receive over $400,000 in support through local partnerships
Regional communities receive over $400,000 in support through local partnerships
May 19 2023
We've awarded more than $400,000 to community organisations across regional Western Australia through our Community Partnerships Program this year.
The Community Partnerships Program offers two rounds of funding a year of between $1,000 and $50,000 to not-for-profits and local government organisations.
The program supports a range of community organisations and events across regional and remote WA, funding initiatives and events that are accessible to a large portion of the community and contribute to overall community wellbeing. This includes sporting associations, arts and cultural groups, women's groups, animal welfare organisations, Aboriginal corporations, community resource centres and local governments.
In the recent round of applications, the 55 successful organisations were collectively awarded over $400,000 to enhance regional growth and vibrancy across our service area in the Kimberley, Pilbara, Gascoyne Mid West and Goldfields Esperance regions.
Since 2020, the program has provided over $3 million in funding to more than 250 initiatives across WA.
What's next?
Applications for Horizon Power's 2023/24 Community Partnerships Program will open in early August 2023. Keep an eye out for a community information session near you and find out more information at www.horizonpower.com.au/community.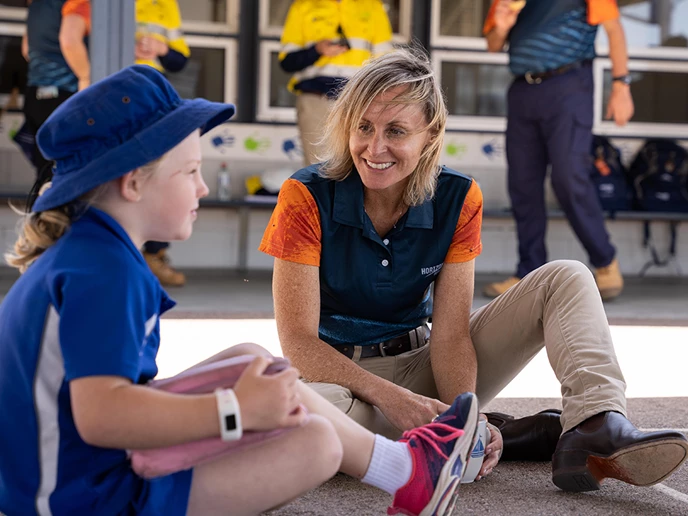 Our Community Partnerships Program plays a significant role in fostering vibrant communities across our service area.
We recognise the changing needs of communities and support organisations which are delivering benefits directly back into the people who live and work in the communities we serve, including those impacted so deeply by the Kimberley flood events. We value our relationships with passionate community members and organisations who are developing grassroot programs which make a real difference. The program helps enable these initiatives to deliver positive outcomes and empower our communities.
Stephanie Unwin, CEO Horizon Power
The highlights
We partnered with some amazing regional organisations that are working to make their communities more vibrant. View a complete list of recipients here.
Supporting Kimberley communities affected by recent floods
We partnered with organisations who are delivering initiatives in support of communities impacted by the devastating floods in the West Kimberley earlier this year. The partnerships, valued at $70,000, includes the Fitzroy Valley Rodeo Club for their Recreational Equine Assisted Learning and Therapy program and urgent repairs to flood damaged infrastructure, to help enable the 2023 Fitzroy Crossing Annual Campdraft and Rodeo event.
Investing in our state's most remote communities
The partnerships continue to reach communities into our more remote service areas. This includes helping the Leonora Local Drug Action Group to engage the most vulnerable in the local and neighbouring communities through their Connect and Grow Basketball Project. Meanwhile, funding will also support the Marble Bar Community Resource Centre, to reinvigorate the centre and equip them to host events and attract visitors to support the economic development of the Pilbara town.
Partnering with Aboriginal and Torres Strait Islander organisations
Twenty-five percent of new partnerships in this round have been signed with Aboriginal registered organisations. This includes the refurbishment of the Middle Beach amenities at Ardyaloon (One Arm Point), a culturally important location for community members.
Vibrant communities = vibrant events
The funding helps local governments deliver accessible community events such as The Shire of Meekatharra's annual community event, the 2023 Meeka Outback Festival in the Mid West. It also supports the Broome Aboriginal Media Association's program, which culminates in the Kimberley, Pilbara and Goldfields Girl showcase events. Other partnerships include furnishings for Onslow Men's Shed's new facilities and the creation of a vibrant kids' space for families at the Gascoyne Growers markets.
Are you making a difference in regional WA communities?
You could be eligible for funding up to $50,000 if your initiative impacts local communities in any of our service areas.
Learn more
Horizon Power acknowledges the Traditional Custodians throughout Western Australia and their continuing connection to the land, waters and community. We pay our respects to all members of the Aboriginal communities and their cultures; and to Elders past, present and emerging.
Aboriginal and Torres Strait Islander people are advised that this website may contain images, names or voices of deceased people.