An easy choice to go all electric in Esperance
October 06 2022
Sharon Vermeij was one of the first in the Esperance community to embark on her energy transition. She had started looking to replace her stove when she first heard about the Esperance Gas Distribution Company ceasing to supply reticulated gas to the local community.
Sharon had a gas hot water system, stove and cooktop and was very concerned about her ongoing power supply and the affordability of a new solution. She was relieved to discover that Horizon Power, on behalf of the State Government, was providing financial support to help impacted residents and businesses.
Having attended the Horizon Power community information event and understanding the number of residents and businesses needing to transition, Sharon realised the importance of taking early action. "We thought we'd get on to it as soon as it became available, knowing that there were lots to be converted and trades would quickly become busy."
She engaged BCL Electrical Contracting and Le Grande Plumbing who visited her home to discuss solutions. Having recently installed rooftop solar, Sharon selected an electric heat pump and electric stove with ceramic cook top. This allowed her to benefit from the lower cost of running electric appliances and do her part for the environment with reduced emissions.
On 3 August, Sharon attended the Horizon Power celebrity cooking demonstration and, having seen the benefits of induction cooking, questioned her earlier choice of ceramic cooktop. She mentioned her disappointment to the Horizon Power community support team at the event. The Horizon Power team quickly responded by arranging for the ceramic cooktop to be switched to an induction cooktop. Sharon was thrilled, saying "After the cooking demonstration, I got so excited for an induction stove because of the quick cooking time, power savings and safety for my grandchildren. It was awesome that Horizon Power could make that happen."
Sharon's new appliances were installed in early September. She has been 'cooking up a storm' with her induction stove and has loved how easy it has been to teach her husband to use.
I'm just really happy with how it all went. I'd really like to thank Horizon Power and the government for helping us to replace our appliances. It was a lot of money that we didn't have. My husband is retired and as I'm the only one working it would have been difficult to pay for it ourselves, so I'm really appreciative of the support.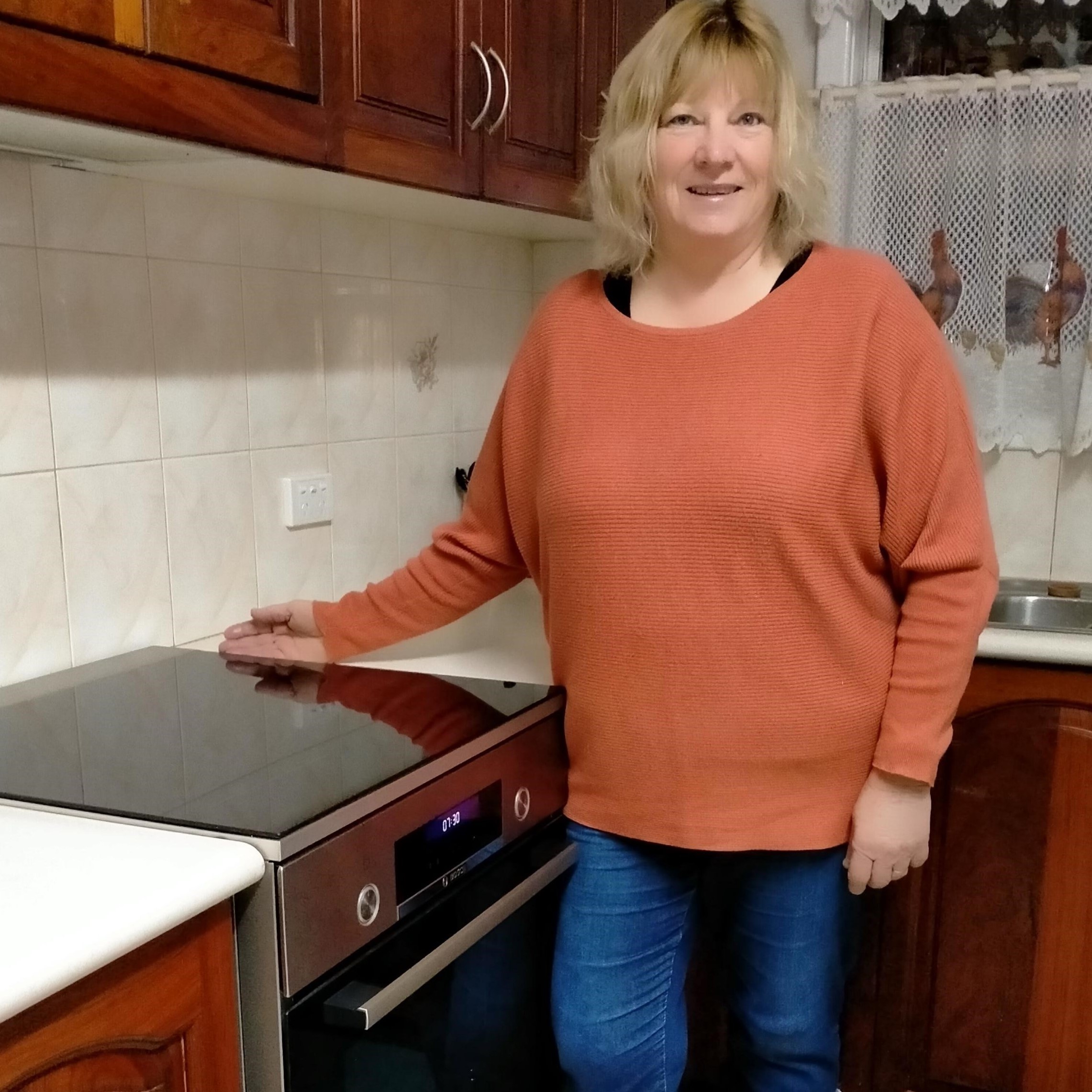 Sharon Vermeij - Esperance Energy Transition Project Customer
Why switch to induction?
Here are some of the benefits of electrifying your cooking.
Energy efficiency
When using an induction cooktop, the stove itself does not get hot because no heat is conducted between the cooktop and the cookware – the electro-magnetism heats the cookware directly. With no transfer of heat, there is no wasted energy.
Safety
As only the pot or pan is heated, the rest of the cooktop stays cool which makes it a safer choice around children and pets. An induction cooktop also only heats when a pan is placed on it.
Easier cleaning
One of the most appealing aspects of an induction cooktop is how easy it is to clean. A simple wipe is all you need and as the flat, glass surface doesn't get hot, spills don't get 'baked on', so there's no scrubbing required!
Quicker, better cooking
Boil water in half the time of a gas stove, thanks to the rapid response electro-magnetic cycle. Plus, even heat distribution allows for easy and accurate temperature control, moving from a high boil to a low simmer in seconds.
Explore the Esperance energy transition
Over half the impacted customers have already started the transition, obtaining quotes from trades and submitting applications for their solution. Customers are choosing electrification, LPG bottled gas, or a combination of both.
Find out more
Horizon Power acknowledges the Traditional Custodians throughout Western Australia and their continuing connection to the land, waters and community. We pay our respects to all members of the Aboriginal communities and their cultures; and to Elders past, present and emerging.
Aboriginal and Torres Strait Islander people are advised that this website may contain images, names or voices of deceased people.