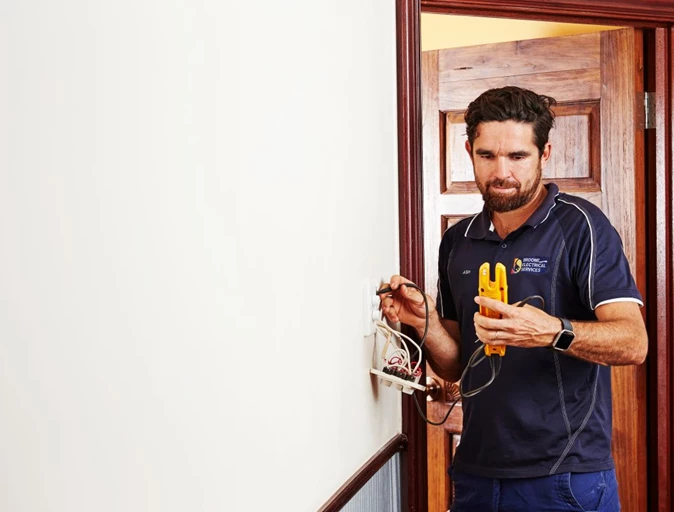 Don't risk it - always use a licensed electrician
You will need a licensed electrician for any electrical work, which includes re-wiring or replacing power points, moving or replacing light switches and installing permanently connected electrical appliances such as a ceiling fans or outdoor lights and repairing appliances.
Important things to note about licensing

It is a legal requirement that all electrical work in Western Australia is only carried out by qualified electrical tradespeople licensed to work in Western Australia and who are employed by an electrical contractor licensed to carry out work in this State.

Licensed electrical contractors have been expertly trained to work safely around electricity, are qualified and will guarantee the quality of their work.

Electrical contractors must display their licence number on their advertising, including vehicles and stationery, so remember to check these before an electrical contractor starts work at your premises.

Check whether an electrical contractor has the necessary qualifications by visiting the 

Energy Safety website

.

Types of work that require a license in Western Australia

Electrical contracting work - to electrical contractors.

Electrical installing work - to electricians. Electricians are licensed for up to 5 years.

Electrical training - to apprentices and trainees. An apprentice/trainee electrician will have a licence card issued for the period of the apprenticeship/traineeship. Training organisations and employers should ask to see the licence card to demonstrate that the apprentice is appropriately licensed to perform electrical work.

Restricted electrical work - to restricted electrical workers. Restricted Electrical Licences (RELs) are issued to persons other than electricians to legally carry out a "restricted" range of electrical tasks. The holder of a REL is not permitted to carry out the installation or alterations to fixed wiring or to repair or replace items such as power points, lighting fittings etc.

Working unlicensed is illegal

It is illegal for someone who is not legally entitled and endorsed to carry out electrical work to:

Insert, remove or operate a Network Operator's fuse/link/circuit breaker

Operates a customer's service protection device

Tamper with or alter any meter-measuring equipment

Make or break any electrical connection (including seals and locks)

Dismantle any component part of a Network Operator's equipment or detach such equipment from its fixings.

Connecting to and using electricity by any means other than by an approved method is classified as theft.

If someone is found guilty of any of the above, they could receive substantial penalties and an order for damages to compensate the Network Operator for any loss or rectification inclusive of court costs.
Horizon Power acknowledges the Traditional Custodians throughout Western Australia and their continuing connection to the land, waters and community. We pay our respects to all members of the Aboriginal communities and their cultures; and to Elders past, present and emerging.
Aboriginal and Torres Strait Islander people are advised that this website may contain images, names or voices of deceased people.