Energy supply across regional WA
Here in WA, we do things a bit differently to the rest of Australia. When it comes to energy, we're
not part of the national electricity market or the eastern gas region.

The WA Government owns three corporations with different roles in the electricity supply chain
Western Power
builds, maintains and operates the power grid within the Southwest Interconnected System (which is called the 'SWIS').
Synergy
is responsible for electricity generation and retail services within the SWIS. This is within what is known as the Wholesale Electricity Market.
Horizon Power
(that's us) We are responsible for electricity generation, transmission and distribution across the power grid and retail services electricity in Western Australia's regional and remote areas.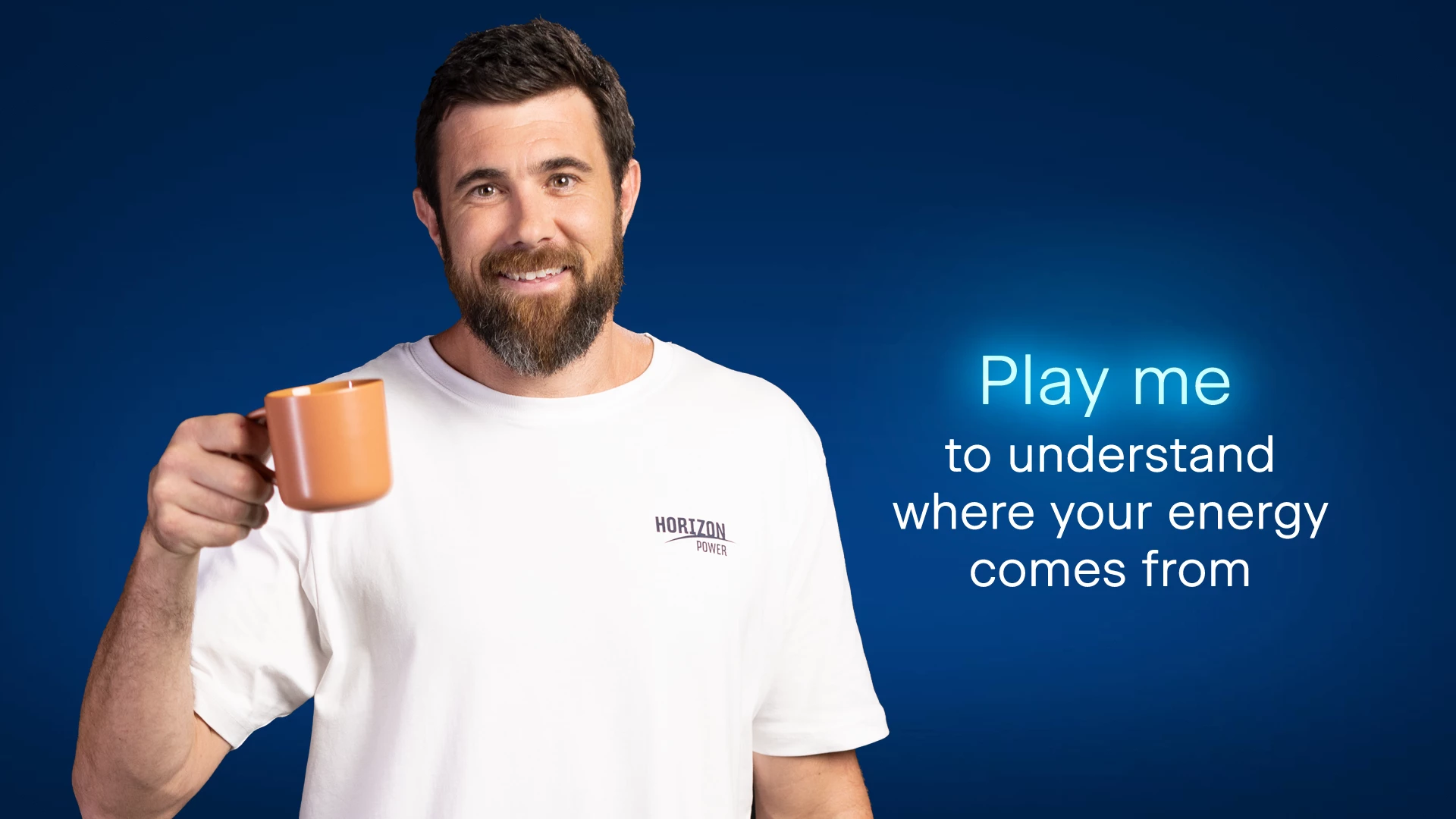 The role of Horizon Power in your

electricity consumption in Western Australia
At Horizon Power, we're responsible for the largest service area of any Australian power provider, spanning 2.3 million square kilometres. Our customers live in some of the most isolated and remote communities in the world – and we know you need energy solutions designed to suit your needs.
Across this area, we have a range of different energy systems
Northwest Interconnected System
The Northwest Interconnected System (NWIS) in the Pilbara
The Connected Network
The connected network covers three interconnected systems in Kununurra, Wyndham, and Lake Argyle
Microgrids
We have 38 microgrids across regional WA, which all sit outside the SWIS, powering more than 36,000 households and 9,000 businesses
We offer services from start to finish:
Electricity generation
We deliver 1,040.61 GigaWatt hours (GWh) of energy generated from gas, diesel, and renewable energy, including 16.1 GWh of solar energy purchased from our customers.
Our power network
Our energy supply comes from 8,356 km of overhead and underground power lines. This network moves the electricity supply through 56,081 distribution poles to over 51,000 connection points across the network.
Retail services
This is the part where we prepare your bill and help you learn more about how you use energy in your home or business.
The future of energy in Western Australia
The WA energy market is being considered as an example of how to safely manage the transition from a traditional energy system which relies on fossil fuels, to a greener energy future.
As the future of energy evolves, we're working with our customers to transition from a one-way relationship towards community energy exchanges between, households, businesses, electric vehicles and the Internet of Things (IoT).

New solutions for a renewable energy future
There are many types of renewable energy sources in Western Australia – including plenty of sunshine and wind power.
We are committed to a low carbon, renewable energy future which will allow for even more renewable energy resources, keep our system stable and provide affordable electricity.  In line with WA Government targets, we're working towards a target of reducing emissions by 80% by 2030, compared to 2021 levels.
We're working on some industry-leading trials to provide our customers with the kind of solutions they need for their energy future.
Our electricity generation mix is changing to include more renewables. At the moment, that mix includes diesel, gas, solar, wind and hydro. We're tackling the opportunities and challenges associated with the move away from fossil fuels, making sure this transition to renewables doesn't impact the stability of the network. 
We're reducing our reliance on diesel generation by integrating more sustainable and environmentally friendly energy sources such as solar, wind, batteries, and hydrogen. 
We're working with our customers and communities to allow for even more rooftop solar to power our remote communities. One example of this is our Smart Connect Solar technology which allows energy flows to be balanced to help keep the power supply stable.
Along the way, we're working with local communities to design the kind of energy solutions our customers need. We're working with local suppliers to further invest in our communities, create local jobs and help build local economies.

We're exploring options to help reduce the cost of your electricity and investing in a greener future for everyone.
Learn more about WA's energy supply, explore these articles
Exploring Western Australia's EV Network
As the WA Government works towards its target of net zero carbon emissions by 2050, electric vehicles are an important part of WA's low carbon transition.

Here's your guide to driving an EV in WA.
Find out more
Horizon Power acknowledges the Traditional Custodians throughout Western Australia and their continuing connection to the land, waters and community. We pay our respects to all members of the Aboriginal communities and their cultures; and to Elders past, present and emerging.
Aboriginal and Torres Strait Islander people are advised that this website may contain images, names or voices of deceased people.