There's more going on beneath the surface than you realise
In areas with underground power, cables may be out of sight but they can still be very dangerous if accidentally struck or damaged. It's essential to carefully plan any works in your front yard and proceed with caution if you planning on digging or excavating where underground electrical assets may be located.
Properties with underground power are connected to the electricity network through a service pillar or 'green dome', located just inside the boundary. Green domes contain live wires so should be treated with caution, particularly when working nearby.
Your consumer main runs from the green dome to your meter box at least 500 mm below ground. In most properties, you can determine the location of this cable by checking your meter box for a diagram. If your meter box doesn't show this, consider hiring a qualified electrician to determine the location for you.
The consumer main is privately owned by the property owner so is not shown on Before You Dig Australia (BYDA). However, other utilities' cables could be shown, so always check BYDA plans before you start any works.
The distribution network cable connects the green dome to the electrical network. This cable runs anywhere outside your property boundary (including in the council owned verge) and is located at least 850 mm below ground.
The main network cable attaches to the network and runs along the street on one side of the road. They're usually located in the council verge area at least 850 mm below ground. If you're working near the edge of your property, get a licensed surveyor to peg the boundary to ensure you don't go past this line.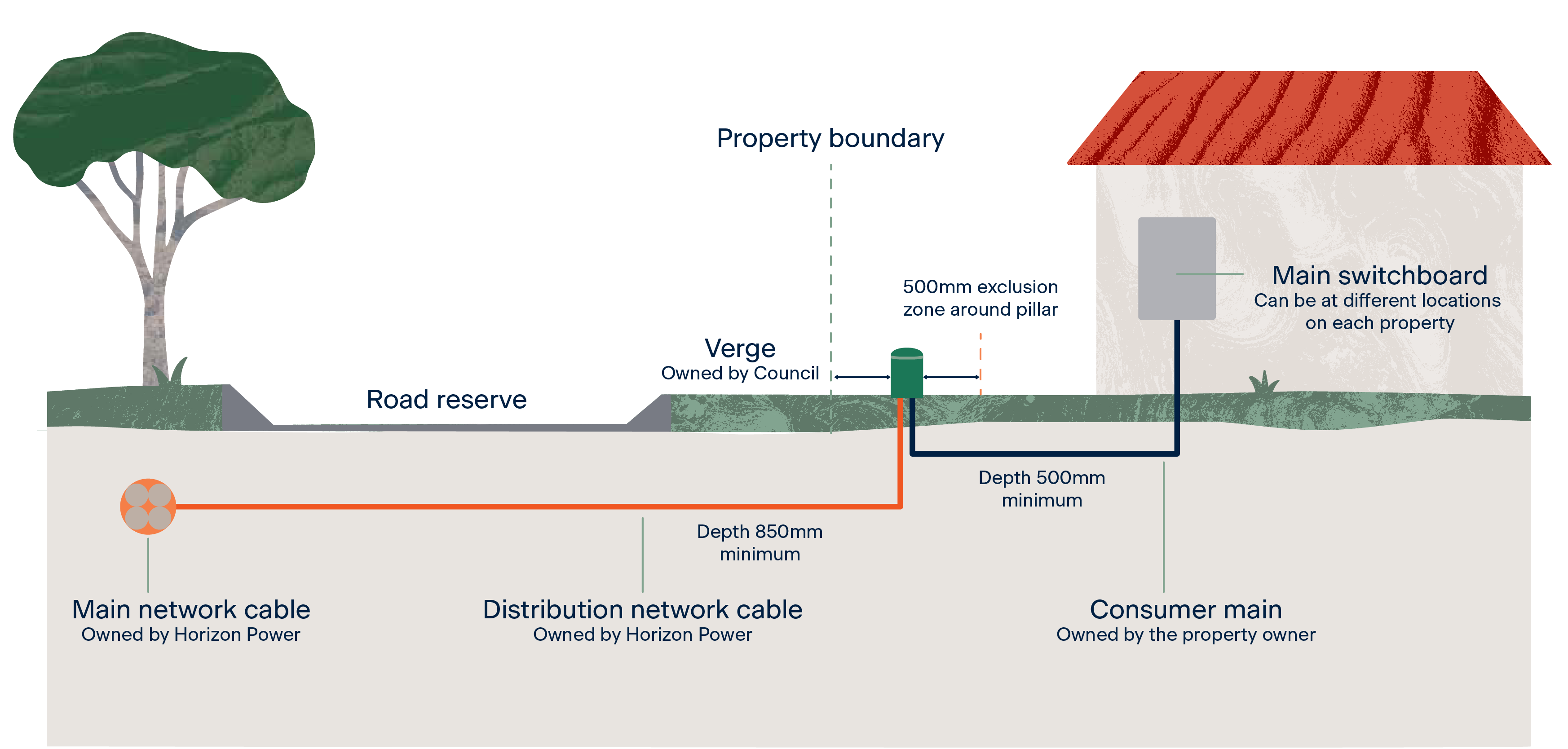 *Depending on the location of your meter, the consumer main could run diagonally across your yard and not always in a straight line from the service pillar to the meter.
Use the five Ps when planning works
If you plan on doing work in your front yard, follow the five Ps to ensure you carry it out safely and avoid hitting underground cables.
Sunken but the same
In the parts of our network which are underground, powerlines are sunk beneath the ground and a mini-pillar or 'green dome' is installed just inside the property to connect homes to the network.
Find out more
Horizon Power acknowledges the Traditional Custodians throughout Western Australia and their continuing connection to the land, waters and community. We pay our respects to all members of the Aboriginal communities and their cultures; and to Elders past, present and emerging.
Aboriginal and Torres Strait Islander people are advised that this website may contain images, names or voices of deceased people.