The future is electric. Are you thinking about making the switch?
With the shift towards net zero emissions accelerating, more car manufacturers are switching to electric only models as early as 2025 and the rollout of Australia's longest connected EV charging highway right here in WA - now is the time to explore the benefits and myths of buying an EV.
Explore our guide to EV's
Wondering how an electric vehicle differs from your petrol-powered transportation? We've broken down the different types of EV to give you a look at what makes them tick and shared what to consider before making the change.
Electric vehicle basics
Get from A to B with PlugShare
We know that 'range anxiety' or worrying how far you can drive is on the minds of those considering an EV, especially in our regions.
The good news is that there are already hundreds of places to charge your EV across regional WA, and that number is only going up. Explore our guide to the types of chargers and where you can plug them in, with help from PlugShare.
Find a charger
Building Australia's longest connected charging network
We're working with Synergy and the State Government to build Australia's longest connected electric vehicle fast-charging network. The WA EV Network will take you from Kununurra in the north, down to Esperance in the south and across to Eucla in the east.
When complete, EV drivers will have access to 98 EV chargers spread across 49 locations along major transport routes.
Learn more about the WA EV Network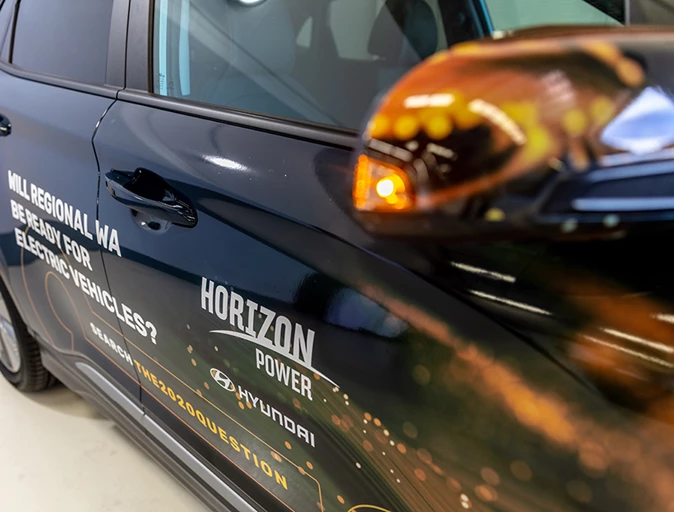 The 2020 Pilot Study
We conducted an electric vehicle pilot study over 2020 and 2021 to explore whether regional WA will be ready for EVs. The pilot study allowed us to:
Learn more about EVs in general, gaining insights into what they are like to use

Better understand how EVs could impact our microgrids and learn more about what the future EV charging demands of our communities could be on our microgrids

Learn more about the driver experience of using an EV over an extended period of time in regional WA
Read the report
Horizon Power acknowledges the Traditional Custodians throughout Western Australia and their continuing connection to the land, waters and community. We pay our respects to all members of the Aboriginal communities and their cultures; and to Elders past, present and emerging.
Aboriginal and Torres Strait Islander people are advised that this website may contain images, names or voices of deceased people.